---
EPISODE 24: ATTACK OF THE ALLIGATORS
---
---

24: ATTACK OF THE ALLIGATORS
The preview clips for this episode are among the best in the series. Real live alligators! Alan dangling from a great height! Test tubes full of green water! More alligators!
Ahem. Yes, the clue's definitely in the title here. The show opens with a close-up on an alligator sitting rather demurely on the side of a river in a jungle, while a low rise motor-driven boat chugs past. So far, these alligators aren't attacking, and they appear to be on a scale with any other alligator. That is to say, not tiny, but not monsters yet. Also, they're really crocodiles, but let's not nitpick. As a monkey shrieks in the distance, the two men in the boat watch the alligators slide into the water.
The man driving the boat, Culp, is an unkempt, swarthy type, wearing a battered straw hat. The other man seems to be older, dressed in a natty safari outfit and carrying a large rifle. This man, Mr Blackmer, is dying to "take a pot shot" at the "brutes" on the shore. Careful, those things hold a grudge. Culp doesn't "recommend" trying that as that might "stir…up a whole heap o' trouble…" They soon arrive at a posh but decrepit old house which is rather incongruous out here in the middle of the jungle.
A severe looking woman in a high-necked black dress is watching their arrival from a downstairs window in the house. She radios the "doctor" and tells him that they're almost there. The Doctor thanks "Mrs Files" and then Doctor turns back to his companion, "McGill" and tells him to come with him. Their basement laboratory is full of mad-scientist chemistry sets, pumping brightly coloured liquid and puffs of dry ice through glass tubes and beakers.
Outside, the little boat, named Maria, is getting closer and Blackmer worries that they've travelled up "the wrong creek" and moans that he's been in the boat "for hours." Culp assures Blackmer that he knows the river "like the back of my hand" but Blackmer is really regretting the entire journey. Before his whinge can turn into a rant, Culp growls, "We're there".
The boat pulls up to the small jetty close to the house. I love the steaming atmosphere created here, it looks just how a swampy jungle should feel. The Maria pulls up and we see two little models of the scientists waiting to meet it. Then we go back to full size, and the Doctor and McGill welcome
Blackmer and make introductions. Here we learn that the Doctor's name is Orchard, and I especially like his beatnik beard. Blackmer just wants to hurry this rendezvous along and seems keen to return to civilization. Blackmer tells Culp to "wait here" and Culp responds in an insolent tone of voice, "Yeah…otherwise you'd never get back to the river station, would you?" Although in fact, the other scientists have a boat, so this isn't strictly true.
Doctor Orchard scolds Culp and tells him he's paid to run the boat up the river "and that's it." Just then, thunder rumbles up above, and Orchard notes that there's a storm coming. There's a shot of stock footage of thundery clouds which you may recognise from such shows as The Prisoner and The Avengers, and also a previous episode of Thunderbirds called Pit of Peril, among others. Still, it's an effectively ominous piece of film. I love the detail in this scenery too, right down to the scummy watermark on the boat and the murky river itself. Yuck.
A sweaty Blackmer is still not playing politely, and doesn't want to be stranded at this "backwater" during a storm. He wants to get this "over with" and Orchard obligingly leads the way to their laboratory. The test tubes continue to bubble menacingly. These days it would probably be filled with shiny computer screens, which are far less fun! The camera glides across the workbench for a long time; it feels like the introduction in Star Wars as the space ships pass overhead. When it finally stops, Orchard is explaining to Blackmer that no one outside "the four walls of this laboratory" has been shown what they're about to "disclose" but Blackmer remains unimpressed. He wants them to make it "snappy" (yes, a bit on the nose, insert reptile gag here) and to give him a general picture. Orchard remains impervious to Blackmer's impatience and tells him to "take a look" at some plants on display in a glass cabinet. Orchard asks if Blackmer recognises the plants, and he does – the "river out there is full of weed." Orchard informs him that the "weed" is appropriately named "Sardonicus Americanus" (heh)! This is a rare plant which only grows around this patch of river. It must be gathered and quickly processed in the lab once picked, and this is because it has "properties that will astound you."
Someone else is listening in on this information. The dodgy boatman, Culp, has sneaked up beside the basement air vent and window, and has crawled to get a view where he can spy on the scientist's presentation to Blackmer. Doctor Orchard reminds Blackmer that the "world is heading for a grave food shortage" and that "this plant" is going to "solve that problem." Blackmer incredulously asks if "we're going to start eating this?" while looking aghast at the sample of the 'weed' in his hand. Orchard dryly responds, "Not quite" and points Blackmer's attention to a beaker holding the "processed juices" of the plant, which can be used as "an additive" for "livestock" around the world. They call this processed version "Theramine" which I always thought was a type of electronic musical instrument. McGill reckons that Theramine will enlarge, in every sense, meat output "tenfold." Blackmer asks how they can be so sure. Dr Orchard patiently explains that they've done tests (as they're scientists, I would hope so) and tells McGill to put the Theramine away for "the day." Then he asks Blackmer to follow him.
McGill's stashing of the precious Theramine seems mainly to involve shoving it in a cupboard. Seems that it doesn't need chilling, or sealing, or anything. It's amazing there aren't already really giant rats or bugs running around the jungle. Now we see that Culp has spied on the entire conversation, including where the Theramine is kept.
Doctor Orchard shows Blackmer a room full of cages. He explains that the rabbits in them were imported from North America last year and were "fed and cared for with normal diet." Aww, bunnies. The rabbits on the other side have been given "a minimal dose" of Theramine, and these ones are, to use the technical term, Megabunnies. Well, that or they're just in really small cages, or really fat rabbits. I don't think these poor things get to run around very much. Blackmer comments, "That's some lettuce you've been feeding them with!" and McGill tells him it only took one dose of Theramine to make them this size, otherwise they were "fed normally." Orchard confidently asks Blackmer what he thinks of "our new discovery…has it commercial possibilities?" Blackmer confirms, "Absolutely!" and calls their achievement "most remarkable!" Orchard also reminds Blackmer that he's "the first person" outside the house to be shown "these creatures." That's what you think, Orchard.
Culp is still spying, but just then thunder cracks and the promised storm seems to be closing in. The sound of thunder is then cleverly mixed into the next scene, a close up on Thunderbird Two's retros as she takes off from Tracy Island. Are the boys on a rescue? Judging by Virgil's casual outfit as he pilots the machine, I'd guess they're not. Alan is sitting near him and wearing a pale yellow flight suit. What's the deal, boys? Jeff and his mother are watching the takeoff from the villa's balcony. Grandma asks if it'll be "dangerous" and Jeff promises, "Of course it's not…there's nothing to worry about." He reminds her that Alan has an "excellent head for heights" and it turns out the 'mission' is to fix an aerial mast on the island. Grandma seems reassured by this, for the moment anyway.
As Thunderbird Two cruises above the island, Jeff asks Alan how long he thinks it will take. Alan points out, quite reasonably, that it depends on what he finds when he gets "up there." It's a good thing he does have a "head for heights" because the towering aerial mast is very windswept as Thunderbird Two approaches. After checking if Alan is "all set," Virgil flicks a switch and sends his brother down onto the mast from a winch harness. Alan directs the descent, asking an impassive Virgil to "keep her steady." He lands on the mast's platform without getting skewered on any of the many protruding aerials, and the gusting winds are making his blond hair into a powder puff. Is that really the most efficient way of getting up there? Using Thunderbird Two? Really? Anyway, Alan releases himself from the harness and instructs Virgil to "take her away." Virgil pulls his 'bird clear and lets Jeff know that Alan is in place. Jeff bets it's "pretty windy" and just then Alan contacts them to say he's located the "trouble." A pleased Jeff comments "that was quick" and it just seems that some leads on one dish have "got corroded." Your SkySports will be back in no time, Jeff. Alan is sure that he will complete the task by the time Virgil takes "one trip round the island." As he says this very confidently, a fierce gust of wind shakes the tower and he nearly tumbles right off the ledge! Alan grabs a handrail just in time, sheepishly muttering "that was a close one," and this nicely sets up his reckless side for some action later on.
Luckily no one on the ground seems to have heard Alan's narrow brush with gravity. Jeff is telling Grandma that Alan's work will show if a radio fault is "really down here on Earth" and tries to call John in Thunderbird Five. There's no reply, just static, and this upsets Grandma because they're "out of touch" with her grandson. Jeff is also worried, as their "whole organisation is out of action" until the fault is fixed. Have they tried turning it off and on again? Grandma acts dopey now and tries to call Jeff on his previous "nothing to worry about" statement, which Jeff quite rightly protests was about something "quite different." Before Jeff can start a really good defence, John's portrait eyes begin to flash.
A relieved Jeff answers John's call, and John effuses that he's glad to be "back" and wonders what happened. Jeff explains about the corroded wires and figures that Alan must've only just fixed it. He sure is glad they're "back in business again." So am I, Jeff, there are scary alligators on the way. After this fault and the events of "Danger at Ocean Deep," I think IR needs a Skype account or some sort of answering service at the ready.
Back at the swamp, the jungle storm is in full vent. Rain lashes the sides of the house while thunder really roars and lightning sparks outside. Inside the house, Mrs Files pulls the curtains across on the storm and asks the three men at the table if "that will be all?" Orchard confirms that it is, and asks Files if everything is locked up. It is, and she has also put Blackmer's belongings in the guestroom. It seems that they've all just finished a meal and are now on coffee and cigars. Blackmer thanks her rather warily, and Files coolly wishes them "good night" and leaves the room. Blackmer is grateful to the two scientists for putting him up for the night, and Orchard is sure he would never have made it back to the river station in this weather. Blackmer asks where Culp is. Apparently Mrs Files has "very grudgingly" set the boatman up on a "couch in the study" . Orchard theorises that she may know more about Culp than she "admits to" and McGill thinks Culp was an associate of the previous house owner, "Lopez." Mrs Files was apparently housekeeper to him, too.
Blackmer is simply surprised that the two scientists were able to stand it so long in this "godforsaken spot." Like the luckless archaeologists in "The Uninvited," loathing of their natural surroundings seems to be a recurring theme for characters in this series, particularly those about to get into jeopardy. Blackmer is set to go into a longer rant about the location when the lights flicker and Orchard and McGill react with a nonchalant, "must fix them." At least the scientists are content with their current environment. Then thunder crashes again and the door in front of them very slowly creaks open. Like something out of Hammer House of Horror, or Tales from the Crypt, the camera glides past the still creaking door, out into the dark, lightning-streaked hallway, then up the stairs. McGill gets up to check the door and gets a mild fright as he sees a figure looming at the top of the dark staircase. Is it a phantom? The ghost of Mr Lopez? A mutated 'gator in a tuxedo? Nope. It's Mrs Files, who is framed very dramatically at the top of this beautifully lit set.
She asks McGill if he wants the keys to the lab. I have to wonder if she pushed open the door then legged it up the stairs on purpose, just to freak them out on a dark and stormy night. McGill confirms that she can keep the keys as they won't be returning to the lab that evening. Mrs Files retires, and McGill goes back into the drawing room, but now we see that Culp is lurking in the hallway! He was hidden in the shadow of a grandfather clock, unseen by both Files and the scientist, and he's behaving very suspiciously.
As the storm wears off and the cloud passes lightly across the moon, sneaky music returns along with the show's penchant for showing characters sleeping peacefully as something seems to be going on around them. In "The Uninvited," this was a total mislead as absolutely nothing happened. In this episode they've decided to make good on the threat, and it seems that Orchard, McGill and Blackmer are being checked out by a snoop who then steals the keys from Mrs Files' room. The lights go on in the lab, and it's soon clear that it's Culp, of course, and he has used the keys to break in. He quickly gets the flask of Theramine out of the cupboard and his skulking seems to disturb the rabbits in their cages. Maybe they're after another dose – we've all seen Night of the Lepus, right? It seems the Andersons rightly felt that giant rabbits on the attack would be a stupid idea. Culp, with nimble in-puppet hand action, starts to tip the Theramine from the large flask into a smaller test tube (hereafter referred to as a 'vial'. Culp then has the same trouble understanding gravity as Alan did on the radio mast earlier, and he places the flask right on the edge of the sink, where it promptly falls in, sending the contents down the plughole. Culp makes an annoyed sound and rinses away any traces, then refills the flask with a dirty bluish liquid instead of the greenish Theramine. It's a bit like a kid replacing his parents' liquor with apple juice or something. Have to hope it's nothing they use on the rabbits anytime soon. His theft complete, Culp replaces the phony Theramine in the cupboard and relocks the door. He appears to have gotten away with it.
However, the consequences of his little spill are already in the works. The plughole gurgles ominously and a slow dramatic note plays as the super-growth drug seeps into the swampy river. A couple of the alligators are swimming right through it. I think there'll be some nasty surprises for everyone in the morning.
Daylight now, and the jungle is recovered from the storm and making its usual cacophony. Somewhere out there is a very angry-sounding kitty. Blackmer is back on Culp's boat. He thanks Orchard for his "hospitality," and adds, "I'll be seeing you," which is the second Prisoner reference this episode. Orchard joshes Blackmer that he still doesn't regret the journey "after all," and Blackmer confirms, "Certainly not!" You can practically see the dollar signs, as he wants to get Theramine on the market "right away." He urges Culp to get them going, and receives a surly, "Yes, sir" in response. Have to wonder who Culp thinks he's going to sell the Theramine he stole to. Maybe he intends to proposition Blackmer a bit further downriver?

As the boat leaves, McGill taking out the 'Theramine' flask from the cupboard in the lab. He immediately realises the contents are fake and shouts for Mrs Files.
Down the river, tension mounts as a GIANT ALLIGATOR slips into the water. Then another one, and another one, go in after it. One of them rams the Maria, causing Blackmer to unfairly scold Culp for rocking the boat. As Culp protests that it wasn't him, a giant alligator lurches out of the water straight at them and Culp lets out a very high pitched, very girly scream!
Inside the house, Orchard and McGill are interrogating Mrs Files over who locked up the laboratory the night before. Files insists that she locked it as usual but McGill is certain that someone was in there, and Orchard wonders if Blackmer could have done it. McGill frets about the consequences of the drug getting into "the wrong hands," and then they hear the bark of rifle shots outside.
Blackmer is firing wildly at the attacking giant 'gators from the rocking boat, while Culp shrieks, "Kill it! Kill it!" Karma is a bitch, it appears. As the boat is thrown from side to side, Orchard makes the connection and realises that the Theramine must have got into the swamp. "Those men don't stand a chance!" And that's when Blackmer and Culp are tossed into the water as angry alligators demolish the 'Maria. One of the creatures has it in its mouth and it's shaking the boat like a dog with a Frisbee. As McGill and Orchard run around doing…something…Blackmer sinks into the water but pops up again. There's another giant alligator waiting on the riverbank.
Orchard spots Blackmer from the jetty, and McGill quickly drives out in an even lower-slung boat to rescue the businessman. Using a boat hook, he gets Blackmer onto the boat, hauling him up with another example of great puppet hand acting. Two alligators are sliding into the water after them, and Orchard screams at McGill to "Hurry!" McGill speeds the boat back toward the jetty and grounds it on the river bank. An alligator now heads for Orchard, who runs back to the house as Mrs Files watches in horror from the window. She opens the door for Orchard before the hungry-looking reptile can reach him. As she braces the door with her back, she tells him that the other two got in through the side door. The thwarted alligators surround the house, and Orchard asks her if Culp has appeared, but Files doesn't respond. She's thrown forward a bit each time an alligator tail hits frustratedly at the door. That's a tough lady. Orchard wonders where they can go, figuring that "those brutes" will collapse the house "in no time." Still impressively cool, Mrs Files quickly ascertains that the laboratory would be the "safest place" and they all move. Outside, the alligators are roaring and surrounding the whole house. Things look bleak as the screen fades to black.
As the picture returns, the situation at the house has not improved. Now the two giant-sized 'gators are even fighting each other. I assume that this is actually because the Anderson film crew have just zapped the poor things with enough volts to get them moving. True story. Also, perhaps the Theramine adds to aggression in the creatures affected by it?
Discussing escape plans, McGill wants to radio the river station for help but Blackmer is unimpressed, pointing out that it would take help hours to reach them, and then what would they do, "send the militia?" Orchard is still panicking that the house won't stand up to "this punishment" for long. No one seems to know what to do until Mrs Files quietly, and logically, says, "International Rescue." I really like this lady. She then says more clearly, "Send for International Rescue, they will help." Orchard immediately seizes on this and tells McGill to radio International Rescue, as he thinks, "If anyone in this world" can get them out of this "it's them." Yes, it probably is!
Up in Thunderbird Five, John has been listening incredulously to McGill's story. When it's finished he says, in sheer disbelief, "Giant alligators?" and a second later Scott repeats this line, in exactly the same tone, back on Earth. John ignores Scott's echoed incredulity, and describes the "lonely spot" and "treacherous" terrain they'll have to deal with. Jeff tells John to say they're on their way and to give Scott the directions en route. Then Jeff turns to Brains to see what he makes of it all. Brains reckons that they don't have enough to go on as yet, but thinks it sounds like a "freak mutation" and he hopes that the effects are "localised." I guess that if they aren't, there'll be some interesting new adventures coming up.
After a short launch for Scott, the family gather around and discuss which alligator-vanquishing weapons to use. Jeff thinks that conventional weapons will be no good, and Virgil reasons that because of the people in the house they may not be able to get close enough to the 'gators for "selective fire." Jeff elects Pod 6 for use this week, and Virgil unusually calls both Alan and Gordon to join him. Now, that's what I thought a double crew was (please see my Danger at Ocean Deep review). Alan says, "See you in Thunderbird", which always sounds like they edited his sentence early and cut off the number at the end. Thunderbird Two is soon blasting off with Virgil, Alan and Gordon aboard.
With both Thunderbirds on their way, Jeff is checking the map and pointing out the river station. Brains notes the "swampy terrain" and thinks that the rescue will be "difficult" while Jeff wonders how the people are "standing up" to the 'gators. I love that he's taking it all so seriously, and I can only assume they managed to verify that this wasn't just some bored villagers playing a prank. That, and it was a more innocent time. Probably.
Outside the house, the alligators are still roaring and smashing at the walls. The four trapped people wait tensely for International Rescue to get there, with Orchard being the obligatory impatient rescuee this week. McGill reiterates that IR are coming and tells him to relax, but Orchard makes the deathless response that relaxing is very hard with "three giant alligators knocking the house down." Just then an alligator hits the wall so hard that a piece of rubble seems to fly into Orchard's head and he collapses.
Don't worry guys, Thunderbird One is here now. Mrs Files hears Scott's rockets as he does a pass overhead and he reports to base that it looks, "Pretty hazardous." Jeff asks if he can handle the three monsters but Scott reckons that they're "sturdy brutes" and doesn't think his missiles will be effective. Also the house is "right in the line of fire." Scott then radios McGill and learns that everyone is hiding in the basement. Scott tells McGill he will try to scare off the "reptiles" with a "diversion" and assures the scientist that his "buddies are on their way." At this, Virgil speaks to Scott and it seems like he, Gordon and Alan have hashed out a plan of attack. Meanwhile, Scott's entire plan is to somehow clear the area and get into the house. Virgil concurs and tells Scott he'll be at the rescue zone in "four and three-quarter minutes." That boy is so precise.
Scott lands Thunderbird One near the scene while the 'gators continue to scratch at the walls. The place is really looking the worse for wear. Holes are appearing in the walls. Scott scoots up to the scene on his hover-bike to survey the problem. Then he radios the trapped people and instructs them to get clear of the lab window, and then he'll try and enter the house that way. Blackmer reckons this is "crazy." Yes, yes it is.
Scott stops near the house and fires a few tiny but effective missiles to the side of the structure. This gets the 'gators to back off – which makes me wonder why Scott didn't then hold on until they had another pair of hands to get everyone out. I suppose the beasts would keep coming back, though. As the reptiles run (?) away, Scott zooms in past the little jetty and another 'gator thinks he'd make a tasty brunch and starts chasing after him. The two original alligators are back again, but Scott is already inside, leaving his (hopefully insured) hoverbike abandoned outside.
Scott quickly checks if there is any other way out of the house. The mysterious Mrs Files tells him there "used to be one other way" and that the previous owner, Lopez, had built an underground landing area. However, he never told her where it was, and the only other person he told is "now dead." She means Culp, of course. This might just be important later, kids. It seems like Scott has trapped himself along with the other four rescuees. The alligators have renewed their attack even more viciously, slamming their tails against the laboratory window. Scott exclaims that they've "got to get out of here!" even as beams start to fall from the ceiling, smashing glass in the lab to pieces. The place is really coming apart and a 'gator can now stick its head in through one of the walls.
Everyone takes shelter in the drawing room, making a bit of a last stand behind chairs and sofas. Scott is covered in plaster dust, his eyes look very dark as he frowns and keeps an eye out for alligator snouts. McGill, who's teamed up with Scott at the frontline, observes that the reptiles seem to be "all round the house now" and Blackmer cries out "listen to that racket!" At this, Mrs Files calls their attention to a wall behind a large dresser, which starts to tremble and shake alarmingly. It seems like the alligators are about to get in. Scott, his voice tense, orders them all to "stand back" and readies to face the beast with nothing but his pistol and fantastic hair. Then the wall swings open, rather than falling apart, and everyone is surprised as hell to see Culp standing in the newly opened doorway. As they all stare in shock at his return from the dead, Culp blasts the pistol out of Scott's hand – which makes me very glad that Culp is a good shot. Scott seems to have a "ffs, not again" expression as he regards his empty hand, and really reminds me of that moment beneath the pyramid in "The Uninvited." McGill realises that the alligators didn't get Culp "after all" and Culp, captain of belligerent sarcasm, snarks, "Brilliant deduction." He confirms that he used Lopez's "secret waterway" and adds that there's no time for explanations, and that they'll do things his way. Otherwise, he'll cause "more unpleasantness" with Orchard's "brilliant discovery" – and brandishes the full test tube of Theramine!
Outside the house, the alligators still aren't letting up, but now Scott and the others are also trapped by a madman! Fade to black.
Determined fanfare carries Thunderbird Two as she cruises above the green jungle. Nice rolling surface underneath her, the shot taken from an unusual viewpoint right above the machine, looking down. Virgil is worried about Scott's radio silence since his brother reached the house, telling Jeff that he doesn't "get it" and that the line seems "dead." Jeff is unusually optimistic, assuring Virg that Scott probably has "some scheme in hand" and telling Virgil not to "mind." What? Since when has radio silence from Scott ever been a good thing? Maybe this is since he didn't reply for ages after the Ocean Pioneer exploded in "Danger at Ocean Deep?" Anyway, Virgil sounds faintly surprised to announce he has now "arrived" at the danger zone, and he tells Alan and Gordon that their first priority is to "get those reptiles away from the house."
The 'gators continue their attack, shattering walls and snarling around the house. One side has been almost completely demolished! As TB2 glides overhead, it blasts a load of smoke at the beasts from the rockets, and the monsters roar in anger. They start to back off and Alan notes it "seems to be working" while Gordon prepares to "stand by with the tranquiliser guns," which I reckon is because even the Anderson film crew wouldn't actually blow up live animals just to get decent footage. (Would they?) The smoke is indeed working, and the 'gators retreat to the river again, and Two rises up above the jungle to take them on.
Back in the only room in the house somehow not mashed to a pulp, Culp is still holding everyone at gunpoint and he has also snatched up Scott's curvy IR pistol. Now he's at the window, Culp can see that the 'gators have headed "back to the river." Virgil is still worried by Scott's silence and his voice comes over the portable radio that Scott is holding. Scott slowly lifts the microphone to answer, only for Culp to threaten that "you say one word…and it'll be your last." Scott looks royally hacked off. Virgil tries again to reach him and sighs, saying, "I don't get it." It's all gone very 'Uninvited', hasn't it, Virg? Better blow up the house just to be sure.
While Virgil frets, Alan and Gordon gear up to "have a crack" at the giant alligators. Thunderbird Two swoops down over the beasts and Alan and Gordon fire the cannons from what looks like the 'chest' or maybe the fuselage of the ship. As they fire, the poor monsters flip over and twitch before lying still. Virgil praises his brothers' shooting and says they'll go back to "see how they look." The tranquilisers have taken effect, and Gordon notes that those two have been successfully taken out. Then Virgil spots that the third 'gator has headed "back to the house." I have to wonder why the beasts were so attracted to the house in the first place? This last one is particularly determined and is tunnelling its way through the building to the people trapped inside.
In the living room, Doctor Orchard holds Mrs Files close as the reptile attacks, and Culp watches the oncoming destruction without a word. Instead of using the smoke from his engines to scare this one off, Virgil lands Thunderbird Two nearby and Gordon wonders how they can use the tranquiliser so close to the "folks" in the house. Alan, looking even more babyfaced than usual, has "got it" and says he'll go out on his hoverbike and draw it away! Virgil, alarmed at this plan, tries to dissuade him by saying that the hoverbike cannon is useless against "that baby," but Alan ignores their protests and charges off to carry out his plan. The last alligator is still intent on wrecking the house and eating Scott, so perhaps it is the best plan after all.
The final wall between the group in the house and the 'gator is about to collapse, and as the cabinet crashes at Scott's feet he tries to reason with Culp, pointing out that "in just about two minutes from now that wall is going to collapse altogether and you know what will happen." He asks to have his ray gun back as then he could possibly "cripple the beast." Culp is still insane, though, and threatens "One move and you're dead." If they're a bit lucky now, the reptile will eat Culp first.
Alan is going ahead with his plan and zooms across the swamp on his hoverbike, leaving from under TB2's big green nose.
I'm a bit surprised that they found a spot in the whole swamp where something as massive as Thunderbird Two won't sink. Alan takes the same route as Scott did as he heads towards the house, and doesn't look scared so much as hyped up on adrenaline. As he nears the house he calls to the creature, "Here, boy," and the 'gator, who obviously isn't an Alan fan, (or perhaps it is?) immediately goes after him for a nibble. Alan very slowly glides off, pausing when the creature does to encourage it to follow. Bear in mind that alligators move fast enough on land when they aren't over a hundred feet tall! Alan calls out for it to "come and get" him as he inches away. Gordon is watching it all anxiously from Thunderbird Two, and Virgil says hoarsely, "It's working, it's working!" And it is. Or, it is until Alan, understandably concentrating mostly on the 'gator right at his back, fails to see a bank of logs and rocks right in his path and crashes into them! He falls badly off the hoverbike and whacks his head pretty hard on the rocks. He's knocked unconscious, blood streaming from his forehead.
As Alan lies there, stunned, tense music tightens in pitch and the beast roars, preparing to attack. It's going to get a taste of Tracy! Virgil hollers, "Get it, Gordon!" and the aquanaut fires at last. Why'd it take you so long, Gordon? He hits the creature and it, too, rolls over, tranqued out of its lizardy mind. Now, wait a minute, if they were worried about hitting the people who were inside a house with those tranquiliser guns, then isn't it a crazy thing to be shooting at a monster this close to Alan – albeit for a very good reason?
Now that the three monster alligators are taken care of, Culp figures that the "coast is clear" and gloats that he will be "first on the market" with the Theramine. He orders Scott to "radio" his "buddies" and to tell them that he's coming out now. Scott protests that it isn't safe yet, and Orchard reminds Culp that there could be more "monsters." Don't mistake this for caring about you, Culp. Culp ignores them anyway, snarling that if they don't "obey" then there's going to be "more" monsters. If TB2's crew try to stop him, he'll pour Orchard's "cocktail" into the river. Scott exchanges a heavy look with McGill and flicks on the radio. He doesn't get far into his second "Calling Thunderbird Two" before Virgil butts in with an ecstatic "At last!" wanting to know "what's up?"
In a very serious voice, Scott tells Virg that "there's a guy here pointing a gun at us" and that he wants to be given a "clear passage" away from the house. Scott emphasises Culp's threat of putting Orchard's drug in the river, adding, "You know what that means." Culp thanks Scott sarcastically and backs out of the room. If it weren't for the gun, Scott could totally take him. Hell, Mrs Files probably could.
Virgil asks Gordon if he got all that. A worried Gordon confirms that he "sure did," and Virgil tells him to stand by in Thunderbird Four. I suppose it makes sense to have brought their submarine too, even though they lifted off with Pod 6! Virgil lifts up TB2 and they launch Four, and somehow they do this without Culp noticing, although I think they must be in visible range of the house. You'd think that counts as interference, surely? Gordon settles his craft on the bottom of the river as Culp takes the surviving boat and scoots away. It looks like he's escaped – or has he?
Gordon suddenly spots another giant alligator paddling through the water, and yells, "Virgil Alligator!" earning a hilarious, baffled "Where?" from a frowning Virg. It's sneaking up behind Culp, who appears to be catnip for mutated alligators. The beast quite terrifyingly catches up with the boat and chomps it into oblivion. I wonder if Culp got away this time? We don't exactly get to see his chewed up remains or anything, but I'm guessing it did not end well.
With Culp out of the picture, Orchard is very concerned about "the vial" and wonders what happened to it. Scott responds with a grim, "I hate to think," just as Virgil yells, "Firing missile!" and…fires a missile. Yep, screw those sappy tranquilisers. Virgil has just ensured that any pieces of Culp not inside the giant alligator are, at best, sinking to the bottom of the river bed. Yuck. Virgil then urgently tells Gordon that "we've got to find that vial!" and Gordon starts a search. The chances that it wasn't blown up a moment ago seem rather minute.
Luckily the 'vial' seems to be made from reinforced Teflon glass, because it's currently drifting under the river, unbroken by Virgil's artillery, rocks or giant alligator teeth. Scott calls Virgil to ask how the search is going, and Virgil confirms that Gordon's hunting for it. It seems to take no time at all for Gordon to spot it, despite the fact it's the same colour as the river. Once he sees it, Gordon leaves TB4 to swim after it, but has trouble because of all the "greenery." Then he utters a "hey!" and Virgil, clearly on edge after the fourth alligator popped up, demands, "What is it?" Gordon calmly tells him there's "no panic" as he safely retrieves the missing 'vial' and adds, "It didn't even get scratched!" So there shouldn't be any more giant alligators, then. That we know of. It's the potential giant spiders I'd be worried about.
In the next scene, we're back on Tracy Island and the rescuers are relaxing to the extent that they're all pretty much horizontal. Less pretty is their choice of outfits, judging by Alan's electric blue jumper, Scott's attack of ochre, and Virgil's massively unflattering red tank top which I think he nicked from Ned Cook's wardrobe.
Jeff is congratulating them on a "great job" and adds that Blackmer and Orchard have announced that the drug will go under "international control." That was quick, how long have they all been back? Scott mutters from his flat-out position on the easy chair, "I guess that's the best thing for it." And returns to his nap. Jeff wonders what Tin-Tin will make of the rescue. It seems she's been MIA on a shopping expedition until just then. I guess she didn't get a text from Alan saying 'giant alligators OMG' – or maybe she did. Tin-Tin arrives then, wearing a funky chunky white pullover (tropical island, guys) with a dangling pendant. She brightly asks the sleepy Tracy boys to tell her "all about" their rescue.
Virgil rouses himself enough to drawl, "There was this house on a swamp, you see…" and Scott helps him out by adding, "There were a couple of scientists there working on a…new drug…" but Tin-Tin quickly grows impatient at this drowsy narrative. She focuses her wide-awake attention on Alan, saying she's got an early birthday present for him and it's "in the bathroom." Everyone perks up.
Alan repeats, "The bathroom?" sounding a trifle alarmed as 'hur-hur-hur' mischievous music plays. Of course, he follows her. Scott's dirty mind is working overtime as he ponders out loud with raised eyebrows, "What d'you suppose Tin-Tin wants to show Alan…in the bathroom?" Kids, best look away now.
Alan and Tin-Tin stand over a bath in a room. (They can't just have the one "bathroom", can they?) She tells him he can open his eyes, and when he does there's a double-blink of pure shock at what he sees. No, not Tin-Tin modelling a new 'teddy' or anything, but a tiny alligator (again, actually a crocodile, guys) which is paddling for dear life in the bath water. The poor thing actually has a big pink bow around its neck, too. Taking Alan's shock as delight, Tin-Tin reminds him that he "always said how nice it would be to have a pet" and a panicking Alan exclaims, "A baby alligator!" I think he might be PTSDing all over the place. Tin-Tin assures him that the little fellow is a fully grown breed of "pygmy alligator," so don't worry, Al, it's unlikely to get any bigger, unless some moron gives it Theramine. Alan hides his shock with a relieved laugh and thanks her, "It's just what I've always wanted. A cute, little alligator." Well, that sort of explains why he ran out to get up close with the giant one in the jungle.
Tin-Tin is pleased and warmly wishes him a happy birthday, then some cute music plays over the little monster squirming in the bath tub as the episode comes to an end.
It's hard to find much to complain about in this episode. It's a bona-fide classic. Yes, it's a wacky plot with an insane idea behind it, but it's carried out extremely well, with great moments of enormous suspense and threat. It's very wellpaced as well, with the slow menace of the steaming jungle setting the exotic scene, and the characters that need rescuing all quite well-defined and likeable (except Culp, naturally). I do still have a major question, though. What happened to the poor rabbits in the laboratory?
---
<< back to Episode Index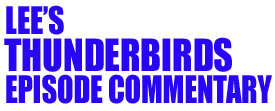 24: ATTACK OF THE ALLIGATORS
Tropical birds screech uneasily as a river boat slides past a group of watchful alligators – alligators larger than normal according to one Mr Blackmore, who's itching to take a big white hunter potshot at them. Blackmore, and his moustachioed river pilot, Culp, are on their way to a secret rendezvous somewhere in the bayous, but an isolated southern backwoods is an unlikely place to put a mansion. However somebody did put a mansion there, and scientists McGill and Orchard have taken it over in order to experiment on a rapid growth hormone – Theramine – they've distilled from swamp plants and are hoping to use in food production. It's the murky green Theramine that Blackmore has come to look at, along with some sizeably modified rabbits.
On Tracy Island, Virgil and Alan are off in Thunderbird Two to fix an aerial mast on the far side of the island. Communications with Thunderbird Five are down – meaning International Rescue is out of operation – and it's hoped that repairs on the mast will solve the problem. Alan saves the day by replacing some corroded junction plates, and soon enough Jeff and John are once again looking blankly at each other over the airwaves.
Just in time, because back at the bayou a storm is building and tensions are running high in the spooky mansion. Seems the swarthy Culp knows exactly what's going on in the lab, and he plans to steal the Theramine for his own nefarious purposes. As the storm builds and the mansion lights flicker, Culp sneaks into the lab and transfers the drug into a phial – accidentally knocking some of the Theramine into the sink. He quickly washes it down the drain, but plumbing being what it is in a swamp, the drain leads straight into the river system where the already over-large alligators are lurking with sinister intent.
The storm clears and Blackmore, having drooled over the Theramine, is being shuttled back down the river by the duplicitous Culp. Unfortunately, this is where the trouble begins. The alligators, having swum merrily through the Theramine cloud that leaked out of the drain all night, have not only grown to incredible size, but have also developed a keen hankering for human flesh. A terrifying scene ensues as the boat comes under attack before the horrified gaze of the scientists and their housekeeper, who were still standing on the pier waving bye-bye when it happened. Guns are raised but it's all too late, the boat flipping over and its occupants sinking into the murk. Blackmore is saved, but Culp sinks down to a watery grave.
In scenes that must surely have scared the pants off us as children, the alligators crawl out of the river and become intent on smashing the mansion down – it seems their sense of smell has improved along with their size, and they can scent the tasty morsels within. The terrified occupants quickly call for help by going straight to the top of the rescue service chain – International Rescue of course, who literally can't believe their ears. In a rare tactical move, Jeff despatches all four of his ground crew to assist, but it may be too late as the mansion is beginning to crumble.
In either a moment of sheer stupidity or absolute bravery, Scott enters the besieged mansion via the laboratory window, which means he gets to share the terror as opposed to saving the day. And terror it surely is, as the walls begin caving in and the shrieking of the alligators gets louder and louder.
However Scott quickly wangles out of the housekeeper that a secret escape route leads from the mansion to the river, and just as they begin the search for it, the secret door slides open and Culp emerges. He's not dead after all, but, to make up for it, he's wet and he's armed, shooting Scott's gun out of his hand and threatening to let loose with more Theramine.
Meanwhile, Virgil, Gordon and Alan have arrived and drive the alligators away from the house by using TB2's jets. Alan and Gordon load the tranquilizer guns and manage to subdue two of the alligators, but the third one has headed back to the mansion for lunch. Alan gets the brilliant idea of using himself as bait, and despite Virgil and Gordon's admonitions to do no such thing, hikes off on his hoverbike. Smelling fresh young meat, the alligator takes the bait and trails off after Alan, who, unfortunately, is so busy watching the beast behind him that he fails to watch where he's going and ends up off the bike and on his butt with an alligator bearing down on him. But no fear, as sharp-shooting Gordon is on the case and takes the alligator out with one shot.
Back in the mansion, Culp has decided he wants TB2 to clear the way for his escape along the river, but Virgil and Gordon hatch a plan to use TB4 to prevent the villain's escape and retrieve the Theramine. They needn't have worried though, as a fourth enlarged alligator was lurking beneath the swamp, and this time it takes Culp down to his doom.
Arriving back at Base after a job well done, our heroes discover that Tin-Tin has returned from her shopping trip (hey, she has to do something with that fabulous salary, right?), and Tin-Tin confesses she's bought Alan an early gift for his birthday. But what to get the man who has everything, or who at least has enough money to have everything? Why, a pigmy alligator, of course!
---
<< Episode Index
<< Characters
<< Thunderbirds Machines
<< Thunderbird Three's Silo